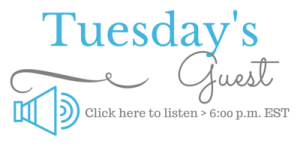 Tuesday, May 16, 2017 – 6:00 p.m. EST – Lady T'Mil Curtis
Have you ever met someone that somewhat does it all? That's Lady T'Mil Curtis for sure! She's a well rounded expert in the areas of marketing, ministry, public speaking, event production, promotion, and the list goes on.
From the inner city of Chicago, born and raised, T'Mil is cultured and comes fashioned with impressive knowledge and education about a variety of things. She attended an Episcopolian Grammar School. Being a fast learner and always loving a challenge, she graduated early at age 16 with a 3.5 GPA after dropping out her senior year.
"All I want is for people to be encouraged, be edified, be empowered, so that they can simply be" – Lady T'Mil
Lady T'Mil  utilizes her gifts of administration, teaching and exhortation to propel individuals to higher levels in their respective arenas be it in ministry or the mainstream marketplace.  On top of all the hands on work that she does in these arenas, she's also an author and blogger. Her writings are known to consistently provoke people to not only think, but, to think at a higher level and from a fresher perspective. She can be counted on to ignite conversations that are significant and memorable.
An avodocate for education and a recipient of a dual Masters in Education and Pastoral Counseling, T'Mil has also assisted in the creation and structuring of ministries, prophetic schools, and accredited bible colleges. Of course there are more hats that she has worn and worn well, such as: Pastor of Music, Youth Pastor, Pastor of Christian Education, and Executive Pastor.
It doesn't matter what room her gifts make for her, the title that brings her the most honor is "servant". At the heart of every endeavor is the desire to simply serve.
After having her hands in so much, you're probably wondering "what more can she possibly do?" Well, at present, Lady T'Mil serves the vision of her father, Dr. Levi R. King Sr, the Overseer of Gateway Area Bible Fellowship Apostolic Church (GABFAC) in Cahokia, IL. There she operates as part of the Five Star Council of Interdenominational College of Apostles and Bishops. She is CEO of T.A.C.ful Enterprises, LLC, a professional corporation that helps manage, develop, promote, establish, equip, and distribute  Music, Media & Ministry. And now the co-owner of a new record label, We Here Now Music Group, LLC.
Additionally, she is an associate of the Gospel Music Workshop of America Gospel Announcer's Guild, where she served as the National Sergeant-At-Arms for 10 years and presently serves as the Asst. Sergeant-At-Arms under the new leaders. She is also a member of various other music associations including SAGAMA, NARAS and GMA.  She is currently the National Promotions Director of Gospel USA Magazine and a featured writer for The Gospel Revue magazine; and a proud member of the National Black Journalist of America along with other literary organizations.
Aside from all of the business and ministry roles, T'Mil is a simple, yet complexed personality. She loves everything pink, enjoys TV production, is a proud nerd, an unapologetic lover of all genres of music from classical, to jazz, to gospel, to country. It goes without that she loves makeup and stilettos and everything else about being a women although she was once a tomboy.
For more information or to contact Lady T'Mil, please do so at:
Facebook: T'Mil Curtis
IG, Twitter and Periscope @itsladytmil