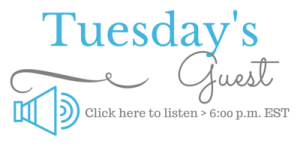 Tuesday, February 28, 2017 – 6:00 p.m. EST – Veronica Richardson, Speaker, Author and Coach
Veronica Richardson is a recognized speaker, author and coach helping high achieving women take A.C.T.I.O.N to reach success, both personally and professionally, so they can fast track their dreams. Both her personal and professional experiences lend themselves to her delivery. Her style comes from a place of self-discovery for founder, Veronica Richardson. After experiencing a lifetime of overachieving and serving others, a separation & being forced into single parenthood, she discovered that being true to your own desires is the only way to be FREE.  The daughter of a drug addict who became the first person in her immediate family to graduate from college, she took pride in over achieving and being what she THOUGHT others needed her to be. A life of pseudo-happiness, bitterness, confusion and resentment became normal. "My main goal in starting TheVeronicaMichelle.com has been to guide other women who are in transition from unbalanced lives, broken relationships, failed attempts and stagnant mindsets to a place of self-discovery and learning to take A.C.T.I.O.N in creating the life they truly desire."
Veronica is the creator of the 14 Day New You Best Life Challenge and the author of Renewed, a self-study to help women discover what is missing in their lives and design a plan to create a life they love.
Veronica is a professional certified life coach. She holds a Master's Degree in Human Behaviors from Capella University and a Bachelor's Degree in Sociology from Old Dominion University. Veronica loves to travel and is a foodie at heart.  She enjoys cooking, reading and traveling when she is not teaching other women how to add their desires back into their lives. She truly believes you can have all you want without giving up what you have. All it takes ACTION.
Veronica M. Richardson MS, CLC 1.757.606.9551
Empower. Inspire. Motivate.
Success Starts with A.C.T.I.O.N
www.theVeronicaMichelle.com
Helping new business owners take ACTION to reach their dreams in life and business.
Ready for 1:1 Support? www.bit.ly/ScheduleMyTime to join me for a FREE