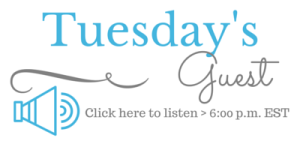 Tuesday, February 6, 2018 – 6:00 p.m. EST – Kristina Cotis Hamlett , Blogger & Writer
Kristina Cotis Hamlett is a blogger and a writer. Her pieces have appeared on kimberlyelise.com, foreverbemoved.com, mitchell-productions.com, The Churchill Newsletter and the online literary magazine, lifein10minutes.com. She was also a featured author at 2017 RVA Lit Crawl, Richmond, Virginia's first literary crawl event. Kristina was also a panelist at James River Writer's January Writing Show: A 2018 Creative Plan of Scheduling, Motivating & Organizing Your Writing Life. She is married and lives in Henrico, VA with her husband and too many books. Her first book, What I Love About You: A Guided Journal to Writing Your Proposal and Vows is now available through her website.
You can reach Kristina at www.kristinahamlett.com.