Author Arianna Scott
"The Audacity to Forgive!" an Autobiography by Author Arianna C. Scott
ABOUT THE BOOK
This book not only tells the author's testimony of overcoming the offense of sexual abuse, rape, and physical abuse, but it gives practical steps and applicable examples to help one overcome offense through forgiveness. There is hope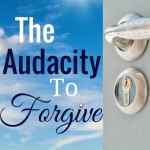 after an offense. We all at some point or another have dealt with offense. The most difficult part of getting over an offense can actually be forgiving our offender. Forgiveness is necessary to function in any relationship. Whether it is in marriage, with our children, in our friendships, on the job, offense can affect every area of our lives. The Audacity to Forgive, provides a powerful testimony which draws the reader in and allows the author to lead the reader down the path of forgiveness and overcoming offense. #TheAudacityToForgive #ComingSoon #NewRelease
ABOUT THE AUTHOR
Bestselling Author | Life Coach | Mentor
About The Author Arianna C. Scott was born in Las Vegas, Nevada and now resides in Houston, Texas. Arianna is a mentor to many and by nature encourages all whom she comes in contact with. She is committed to seeing people succeed. Not only is Arianna active in the community, but she is active in her church. Arianna is a member of Word of Restoration International Church where she makes herself available in any area of service. Arianna is a certified Christian Counselor and is currently obtaining her Master's degree in Marriage and Family Therapy. As a minister of the Gospel, it is Arianna's prayer and passion to see lives restored through forgiveness and reconciliation.
Some of Arianna's most recent work includes the release of her upcoming book, The Audacity to Forgive. This book is set to release in early March of this year. The book takes the reader down the same path Arianna took in order to forgive her offenders. The book is guaranteed to break the yoke of unforgiveness and lift the burden of offense. #TheAudacityToForgive
Arianna is also working on the iForgive Campaign. Her vision is to start a world-wide campaign of forgiveness. The vision is to see people join the cause and forgive on purpose, thus bringing about restoration and wholeness across the globe.
Let's Get Social:
Connect on FB: https://www.facebook.com/pages/Author-Arianna-C-Scott/411330002348516
Visit: www.ariannacscott.com
For Bookings/Press Please Contact:
Faith Abeliever = https://www.facebook.com/faith.abeliever
Publicist-PR
FAB Marketing
Listen online to this interview at http://tobtr.com/s/7558877