Safiyah Givens was born 1983 in Vineland, New Jersey where she currently resides. At the age of two her and her mother moved to Woodbine New Jersey, a small town she was raised in. She always had a passion to read and thought about writing a book but never knew what to write about until at the age of 27 she became a believer of Christ and two years later God gave her the gift of writing. 2014 she released her first poetry book "She Speaks"and her first spoken word cd "The Key." Safiyah has now released her second book "Unborn" which is a novella about a part of her life. She is currently working on a couple other projects, raising her two beautiful children, and serving in multiple ministries at her church.
About The Book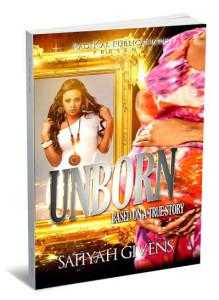 Unborn tells a story of a young girl who's way was lost. Decisions were made out of immaturity and not enough wise
counsel had been received. Going through the motions of life was all it was. To disregard life haphazardly not only affected her life but others as well. There was always a feeling of "there has to be something more". Unfortunately, seeking for more was done the wrong way. Amazingly, somewhere in the midst of the storms (outward and inward), strength and a drive to want better arose. The only way she was able to find it was from the one who gave it to her, Jesus.
Visit http://missgivens.com/