Beverly Fells Jones' past and present experiences (as a wife, a mother, and one of IBM's top performers for 30 years and Hewlett-Packard for over a decade) have prepared her to become an advisor, a consultant, and a confidant to individuals and companies who want to help themselves become better. Ms. Jones has written and developed training courses for both the aforementioned companies, and facilitates the advancement of individuals, by the thousands, worldwide.
As a Life Coach, trainer, keynote speaker, and author of two successful books, Beverly helps you learn and apply techniques to your life desires, enabling you to realize real change, mentally and physically. Using a proven process that taps into the Alpha and Theta Brain wave states of mind, you learn how to become the master of your own destiny.
Beverly helps to empower you to change your mental programming by neutralizing the negative voice and then programming your mind towards success. This opens you to the potential of creating a new reality for yourself. Within a short amount of time, you begin to live life from a completely new perspective, naturally and easily.
ABOUT THE BOOK
"Manifesting the Life You Want, Prime Directives for Abundant Living"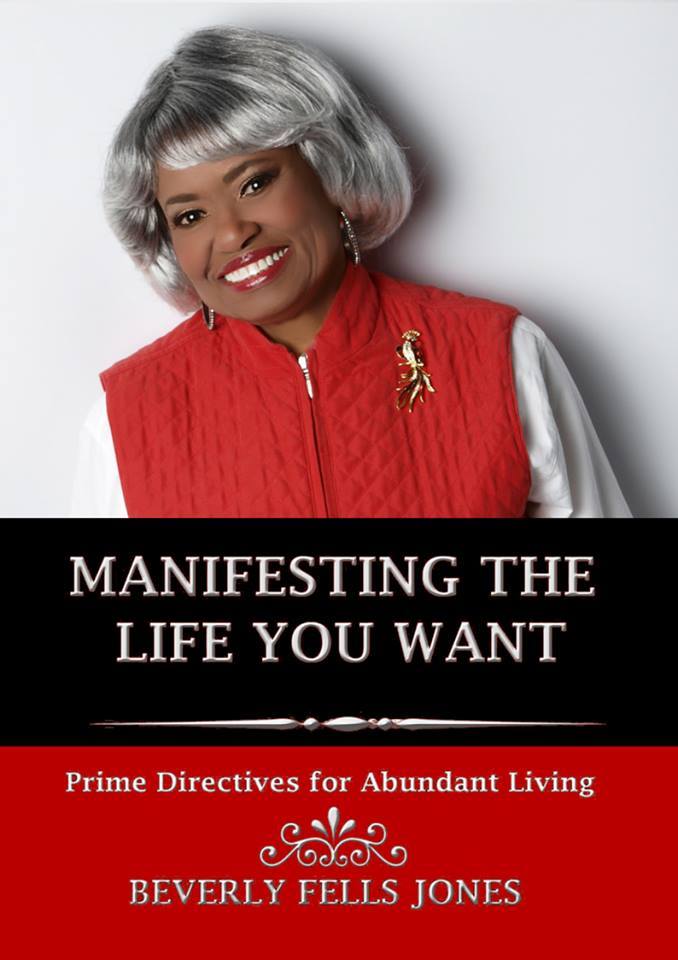 Beverly Fells Jones shows you step by step how to take your desires and thoughts and put them in a form that will allow you to tap into the inner recesses of your mind to propel you to become the person that you desire. Ms. Jones shares scientific and experiential principles that have been proven to work over and over for individuals and teams through personal coaching and seminars. She is now making them available to you through this work.
In this book you will learn four established techniques for accelerating and ensuring the outcome of your affirmations. Ms. Jones identifies areas of a person's life where it is important to achieve various levels success and where you may want to change, remove or improve. They include spirituality and purpose, trust, relationships, gratitude, wealth, health and wellness.
Get your copy today:
Manifesting the Life You Want: Prime Directives for Abundant Living
by Beverly Jones Link: http://amzn.com/B010VX0IKC
Book Review Once you have read the book; please we do encourage posting book reviews on Amazon.com and other online bookstores.
Let's Get Social! Connect with Author Beverly Fells Jones online at:
Follow me on Facebook:
facebook: http://facebook.com/beverlyfellsjones
facebook: http://facebook.com/CommandingYourLife (fan page)
twitter: http://twitter.com/beverlyfellsjon
linkedin: http://linkedin/beverlyfellsjones
Hash-Tag: #ManifestingTheLifeYouWant
Amazon Page: amazon.com/author/beverlyfjones
For Bookings/Press Please Contact:
Lá Tanyha Boyd,
Faith Abeliever Publicist-PR
FAB Marketing
faithinorder@yahoo.com
@FaithAbeliever
@LaTBoyd1
Manifesting the Life You Want: Prime Directives for Abundant Living
"Manifesting the Life You Want, Prime Directives for Abundant Living" can best be described as putting affirmations on speed dial. Beverly Fells Jones shows you step by step how to put your desires and thoughts in a form that will allow you to tap into the inner recesses of your min…
amazon.com